Starting out the power supply system project for constructing Ninh Thuan Nuclear Power Plants
On December 12, in Ninh Thuan province, the Electricity of Vietnam (EVN) held a ceremony of starting out the power supply system for constructing Ninh Thuan Nuclear Power Plant (NPP). The Deputy Prime Minister Hoang Trung Hai – Head of the State Steering Committee of Ninh Thuan NPP attended the ceremony and commanded to start out the project.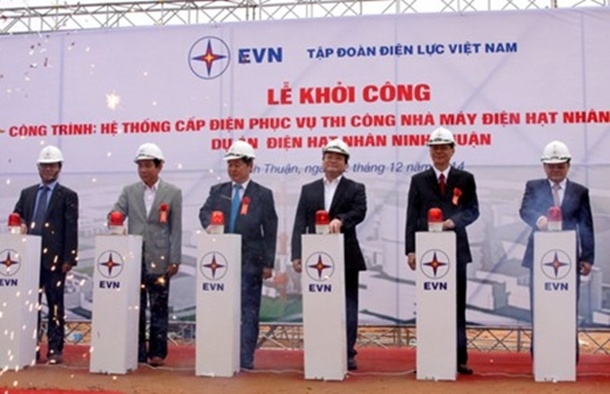 The power supply project includes a 13.63 km 110kV double circuit transmission line passing Phuoc Nam and Phuoc Dinh communes, Thuan Nam district and Phuoc Hai commune, Ninh Phuoc district; and a 110/22kV transformer substation, capacity of 25 MVA in Son Hai village, within the NPP area.
Addressing ceremony, Mr. Hoang Trung Hai expressed the goal and strategic mean of nuclear power as an important energy source in replacement of thermal power plants using fossil fuels and limitation of emission greenhouse gases.
Development of nuclear power projects with the reactors of a large capacity is as a solution to meet the considerable part of electricity demand of the country in future.
"Ninh Thuan NPP projects have been carefully researched since 20 years ago with the painstaking implementing steps from selection of the construction site and technology to meet the modern, safe, proven and effective criteria. The project of power supply system for constructing Ninh Thuan NPPs also is an important project to serving construction and test operation of the main project", Mr. Hai said.
Up to now, the Feasible Study Report and documents on approving project site of Ninh Thuan NPP1&2 Council have been completed and are waiting for the opinions of considerations and assessments from ministries, agencies and State Appraisal Committee.
In parallel with implementation of the infrastructure projects, EVN has also promoted the training work of human resources with nominating 235/325 students and 24 engineers to study and improve knowledge on nuclear power speciality in Russia and Japan.